FALSE POSITIVE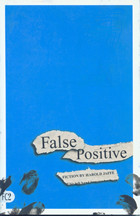 Author of eleven potently unorthodox books of fiction, critically acclaimed "guerrilla writer" Harold Jaffe dazzles us yet again with his imaginative agility. Each of the fifteen fictions in False Positive was originally a newspaper article which Jaffe has "treated." The articles are mostly typical American fare: a high school mass murder; accusations of sexual molestation; the suicide of a rock star; policing pornography on the Internet; another serial killer on the loose . . . Jaffe enters the article, and by various stratagems exposes the host text's predictable but obscured ideology, in the process teasing out its most fertile (that is to say, terrorist) subtexts. Thus re-armed, Jaffe's prosthetic text is released into Culture to do its dirty work.
Read sample chapters from False Positive:
"Startling . . . eerie . . . ingenious. Jaffe has reconfirmed his reputation as 'the master word processor of his generation.'"


--Publisher's Weekly
"These uncannily skewed para-documentary fictions burrow into a reader's consciousness like viral worms of great subltety and cunning to explode the dangerous illusion of safey. Jaffe's is a neccessary and bold strategy which marks out new territory for fiction itself."


--Patricia Eakins
"Jaffe's hard-nosed truth variations read like prose cantos as they refresh the twisted camp of news media for a deeper searing scrutiny. Jaffe evokes tears, laughter and tears of laughter as he artfully fashions absurdity after absurdity into a cold and gleaming template of contemporary American life. Marvelous stuff."


--Wanda Coleman
"Mass murder! Assisted suicide! Germ warfare! Sex-reassignment surgery! Islamic extremism! Pedophilia! You've read it all before, now read it again here, the same but different. Juxtaposed, intercut, rewritten and detourned. Put it all together, it spells Y2K, where we all live now, after the end of the world. I enjoyed Jaffe's False Positive hugely."


--Brian McHale
Purchase FALSE POSITIVE from: Powells.com or Amazon.com.
Now, for a limited time, receive an autographed copy of False Positive directly from the author. Email for more information.