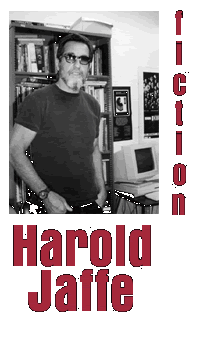 Harold Jaffe's Published Fiction
Critics have called Harold Jaffe's fiction:
"Politically transgressive and formally innovative."
"Iconoclastic and visionary."
"Violently wrathful and infinitely tender."
"Eminently serious and side-splitting comical."
This page features Harold Jaffe's fictions, including sample chapters and stories. To read more about his nonfictions and docufictions, follow the links on this page.
Purchase any book by Harold Jaffe thru the link. (Purchasing from this website defrays the site's expenses.) To purchase an autographed copy from the author, email Harold Jaffe.
Othello Blues
(FictionNet, 1996; JEF Books, 2014)
Othello Blues has been revised and republished by JEF Books and is now available on Amazon.
Dedicated to legendary bluesman Robert Johnson, Othello Blues is as edgily brilliant as a Robert Johnson solo. Like Johnson's blues, Jaffe's futurist blues novel surprises and impresses with its harshness and lyricism, its uncanny twists and turns.
Set in New York City and delta Mississippi in 2005, Othello Blues features Othello (called Otis) on guitar, Cassio on bass and Iago on harmonica and jew's harp. Desdemona is the guileless, white wife of Otis and advocate of Cassio. All three are fatally victimized by the treacherous Iago, who has to be one of the most captivating villains in recent literature.
Though rooted in Shakespeare's tragedy and subtly adhering to fundamental aspects of that drama, Othello Blues is at the same time a parable of lust, racism, delta blues and lean, syncopated prose.
"Composed almost wholly of stage directions, quick cuts, and dialogue, Jaffe's novel is an imaginative, witty, and politically prescient retelling of Othello."

-- Thomas LeClair

"Potent and prophetic."

-- San Diego Union-Tribune

"With multi-layered dialogue and descriptions as clipped and terse as stage directions, Jaffe uses his science fictional setting to hold a satirist's funhouse mirror to our own contemporary world, showing us the rich grown richer, the poor poorer, and the powerful even more indifferent to the misery around them. It is a world to which the blues is the all too appropriate response."

-- Rain Taxi

"What separates Jaffe's vision in Othello Blues from any number of other dark cyberpunk futures is that it posits some active resistance to the forces of oppression. At the same time the novel is as formally innovative as Jaffe's stunningly-crafted short fictions."

-- American Book Review
Straight Razor
(Black Ice Books, 1995)
Straight Razor: Stories (Black Ice Books)
by Harold Jaffe
Time: 20 minutes into the future.
Setting: The treacherous margins of post-industrial society.
Cast: Sexual outlaws, female & male serial murderers, techno-freaks, gender benders, rogue cops, punk anarchists...
Content: Horror, outrage, razor-sharp satire, virtuosic writing and visual beauty by two of the most original contemporary American artists, in collaboration.
In this uncanny collection of 12 stories, Harold Jaffe and Norman Conquest, artist illustrator extraordinaire, have produced a book with the precision of a laser and the charge of a land mine.
Straight Razor has been purchased by Capitan Swing Libros of Madrid and will be translated into Spanish and published in Spain in Fall 2011.
Read sample chapters from Straight Razor:
"Jaffe's best book to date. Which is saying a great deal. Incisive, vibrant, brilliant, even prophetic."

-- Washington Post

"Brilliantly, elegantly poised on the schizoid edge of our crumbling culture."

-- Library Journal

"Exquisite chaos from the master word processor of our generation."

-- San Diego Union-Tribune

"You will be forever changed after reading Straight Razor. It is a hip, bleak, postmodern masterpiece."

-- San Francisco Chronicle

"These pieces, exploring gender slippage and fringed dwellers' rage, televised sexuality and the fragmented, isolated, interrogated, com-modified, and media-ized pomobod, charged with a spirit ironic and energetic as the dark angel at the foot of your bed at three in the morning come to take you to the Murder & Mayhem theme park in the sky, succeed terrifically."

-- Review of Contemporary Fiction

"Straight Razor, the new long-awaited collection from Harold Jaffe, is a dirty dozen of fictions which take place along 'the treacherous margins of post-industrial society,' in a parallel present or future, which if you squint at your monitor morphs into a vision of our own delirious culture . . . Constrained by the fictions to think for ourselves and to look at the world in its rawest rendering while denied the cathartic purge of a sit-com society, we leave Jaffe's collection pent and perhaps poised for our own revolt."

-- Puck

"For the first-time Jaffe reader, Straight Razor is a peach of a place to start: fuzzy and fun on the outside, sweet tart and fleshy in the middle, but watch out--the pit is bitter and a bit poisonous. Go ahead and eat anyway. The poison is a curative dose, anti-anesthesia for the culturally numb."

-- New Novel Review

"Laconic, critical, inspiring . . . You jump from one terse text to the next, molested by numerous waves of manic, info-dense, wired, psychotic images of people at the boundary and just how far they go off that edge and beyond the channel, infiltrating the next form of media to be forced on the market toward hyper-chic expenditure."

-- American Book Review

"Jaffe's 'guerrilla writing' engages the enemy head-on and prods us into thinking of new ways of resisting, new ways of living."

-- Nobodaddies

"In Straight Razor, Jaffe delivers his most precise and immediate thought grenade ever. The dozen stories occur twenty minutes into our degraded future and are menacing in their closeness to right now, tonight, the next episode of Headline News."

-- Bakunin

"Daring and disturbing, Straight Razor skirts about the 'treacherous margins of post-industrial society,' but often seems more concerned with the decline of Western civilization as a whole, tackling issues as broad as race, gender, and identity, as well as tapping into our darkest fears, ranging from AIDS to Armageddon . . . Jaffe's bleak, urban landscapes and characters leading lives of noisy desperation are memorable and hauntingly familiar, a chilling chronicle of life in the nineties."

-- Black Warrior Review
Eros Anti-Eros
(City Lights, 1990)
Eros, Anti-Eros
by Harold Jaffe
Eros collides with Anti-Eros in these menacingly comic fictions in which physical love and desire are policed by a high-tech, militarist, media-manipulated society. The calculated silences and disinformation surrounding the AIDS epidemic, the scapegoating of "deviants," and the everyday bafflements of sensual love are intersecting themes in Jaffe's razor-sharp parables about Eros under siege.
"Jaffe's wild satire rips the mask off America's perpetuated adolescence. His fictions are a wonder of deadpan humor, biting wit and visual beauty. No recent fiction has gripped me with such force and immediacy."

-- Marianne Hauser

"Disturbing, fascinating, wickedly funny. Like Kathy Acker, Jaffe addresses issues of desire through a radical esthetic fully informed by postmodernism. Jaffe has one of the most penetrating literary intelligences at work today. And one of the angriest imaginations."

-- Larry McCaffery
Madonna and Other Spectacles
(PAJ/FSG, 1988)
Madonna and other spectacles :fictions
by Harold Jaffe
Harold Jaffe takes as the subject of fiction anything that is really happening now. Madonna, Ronald Reagan, terrorism, AIDS, South African racism, Dynasty, The Three Stooges, Max Headroom. They share the same global landscape investigating any number of cultural and political illusions.
In his fifth book of fiction, Jaffe recharges the images and language of rock, television, politics, film, and sports in an idiosyncratic prose style that has the syncopated elegance of the hippest kind of jazz. Word music that transcends all musical styles, all historical periods. A rap style that roams up and down the scales of "high" and "low" cultural assumptions. His writing is a collective text of sorts made up of the many different dreams of many cultures. Madonna and Other Spectacles moves in and out of fictional frames where spectacle, characters, and plots overlap, collide, and merge with historical events.
Jaffe's postmodern fictions -- or are they non-fictions? -- outline the savagely ironic spectacles of contemporary society whose actual and make-believe characters interface in stagings of global impact. Sex, entertainment, politics, and technology create a frighteningly ambiguous iconography that shapes consciousness. In a world playacting at the edge of insanity, Madonna and Other Spectacles looks at the masks of power and pleasure created in this age of many forms of terrorism.
"Crackling with rage and black laughter, these 13 short fictions by the author of Beasts wrench themselves out of grimmest fact: genocide, nuclear devastation, black poverty, corporate murder. [This is a] collection that confronts terror in street language and redoubles its impact."

-- Publisher's Weekly

". . . Bursting with stylistic virtuosity."

-- Choice

"Jaffe's Madonna fictions are like a man trying to clear his throat, his brain, his gut, his language of debris--and managing to sing at the same time."

-- John Edgar Wideman

"One of Jaffe's gifts is his extraordinary ability to disassemble contemporary experience and then to reassemble it into something new and inventive. This is a serious book, full of shocks and innovations, which is also fun to read."

-- San Diego Union-Tribune

"The lucid rampage of Jaffe's images and judgments is extraordinarily exciting. It reminds me nostalgically of the Real World we suppose ourselves to see out there."

-- Robert Kelly

"Nobody writing in America today can do what Jaffe does."

-- Larry McCaffery
Beasts
(Curbstone, 1986)
Beasts: Fictions
by Harold Jaffe
Beasts consists of ten fictions modeled on the medieval bestiary. Each particular beast, whether "Sheep," "Monkey," "Salamander," "Sidewinder," etc. is employed variably: as the name of a parlor game, as the name of a prison, as a title without apparent reference. Yet Jaffe has so devised his fictions that the predominant resonance of each individual beast is powerfully allegorical.
The allegory always has to do with the socially dispossessed: out-of-work Blacks, adolescent heroin addicts, miscellaneous social rejects. As in his previous fiction, these are Jaffe's subjects and his portrayal of them, always from one oblique angle or another, is uncanny.
"Beasts is a blessing, a dazzling construction of fiction that resurrects the genre. Jaffe rates a 'high five and a super spliff."


--John A. Williams
"If there can be no successful revolution without love, there can be no successful revolutionary literature without love either. In Beasts we have it. These voices from the submerged population call us in, and we can't resist them. They have a secret to tell us in their own accents. This is a collection of authentic unforgettable prophesies."


--Fanny Howe
"Harold Jaffe's remorseless kaleidoscope spins his beautifully crafted little emblems of modern society -- the junkies and swingers, the blind and the seers, the victims and rebels -- in tumbling patterns whose significance is forced into our imagination. His bestiary displays a rare combination of satire, compassion, and analysis, and he brings out the surreal quality of ordinary life with wit and precision."


--H. Bruce Franklin
Dos Indios
(Thunder's Mouth Press, 1983)
Dos Indios
by Harold Jaffe
When the mist lifted, Manco saw that the small plaza was filled with people. He was on his father's shoulders listening to a man address the crowd. The man, whose costume was the color of clouds heavy with rain, held his odd-shaped cap in his hands and looked earnestly at the people. Manco heard the words "Dios" and "Cristo," which were familiar to him, though they did not sound the same coming from this man, who blinked his eyes when he spoke. Looking about him, Manco saw that not only his father and mother and two sisters, but his relatives and all his neighbors were pressed together, listening. Manco glanced from one face to another ... The faces looked the way they did when they ate, very serious, without joy. Manco looked again at the speaker: he had done something to himself, his hair was too short on his head so that his ears stuck out. Nor did his body seem comfortable in its tight costume with the shining buttons and the enclosed shoes. Manco remembered another man he saw once with faded skin and hair the color of winter grass. The speaker reminded the boy of the faded man, though the speaker's skin was not faded, but was the color of earth, like Manco's own skin. It was something else, something in the speaker's manner.
Now he held his cap in one hand, and in the other held a cloth that fitted over his fingers:
"Brothers, sisters, this little doll I have in my hands can talk and sing. It can weep. Its name is Jesús Cristo." The speaker turned to the doll: "Weep for our brothers and sisters, Señor." He looked up again at his audience. "Jesús tells me that he cannot weep for you here because here is not the proper place. But if you promise to come to the Iglesia this afternoon at three o'clock Jesús will weep for you, and he will sing to you of his sufferings ..."
Manco wondered why the speaker was addressing the people in Spanish and not in Quechua.
"Jesús es el Generalísimo -- Jesús is the great leader of the Salvation Army, my brothers and sisters. And everyone of you can become soldiers in this wonderful army if you promise forever to obey your general, who will address you this afternoon at three o'clock in the Iglesia."
"Joining the flesh of its people with the flesh of the natural world through music, Dos Indios is finally about the search for the spirit of the body. Jaffe's prose is simple, direct and lovely, and like his gentle musicians, it sings."


--Toby Olson
"Those familiar with Jaffe's experimental works, Mole's Pity and Mourning Crazy Horse, will find in Dos Indios the same compassion for human suffering, the same regard for man's resilient spirit, the same ability to uncover beauty and hope within even the most grotesque and painful aspects of contemporary life. But Dos Indios also represents a new and highly successful direction in Jaffe's fiction: a clarity of vision that allows a crippled Peruvian musician to unfold with the precision of realism and the resonance of myth."


--Larry McCaffery
Mourning Crazy Horse
(Fiction Collective, 1982)
Mourning Crazy Horse
by Harold Jaffe
Twenty intersecting tales of estranged love, political oppression and the human comedy. In "Mourning Crazy Horse," the Sioux chief's betrayal and final passion are counterpointed with a contemporary American's journey across the United States. "Underbelly (1)" details the bizarre goings on of a yogi who falls in with a pornographer and his band of outcasts. "Moctezuma's Dreamer" investigates the relationship between enforced deprivation and art, whereas "The Artificial Son" is concerned with the deprivation which promotes kinship, union. "Swede" is the first of several narratives in which Rosen the humpbacked dwarf practices social commentary on the unwary.
"In Harold Jaffe's fiction I always sense that jolt of awareness that comes from seeing the raw need. Jaffe's people find themselves in the wrong place for what they need, always. The don't have words to express what they need. Jaffe gives us the words they would speak, if only they could, and he expects us to do something about it."


--Jerry Bumpus
"Jaffe's intense stereoscopic visions encompass a powerful and contagious sense of mystery, absurdity, and moral outrage. He has an eye for the marvelously, mythically grotesque, and an ear attuned to every ghostly voice."


--Joe David Bellamy
Mole's Pity
(Fiction Collective, 1979)
Farther east begins the familiar grief. Walking up 4th Street into the Lower East Side. Shards of history pricking the devastation. The old Jews gone. Or going. Uprooted Puerto-Ricans in their dolorous tenement flats, or leaning over fire-escapes seeking out sun. Not finding it. Nor finding the thread (or chain) yoking them to their Jewish near-gone brother. A different kind of sun, though it give a similar light. Mole's love would be to join light to ... light:
Mole turns left through a fringe of Chinatown, as there are Chinese "towns" throughout the world. Secretive like the Jews, they work, work against the great void in their chest -- which is the vast country where they've gone from. Not, finally, much different from the desert of the Jews, nor from the Puerto-Rican's island sun. Nor from the sign of the heart between the eyes: the black American's Africa.
Return to the top of the page.
Harold Jaffe: fiction, nonfiction, docufiction, interviews,
bio & blurbs, home.
Copyright © 2001-2013 by Harold Jaffe. All rights reserved.
This site designed and maintained by The Runaway Serfer.
.