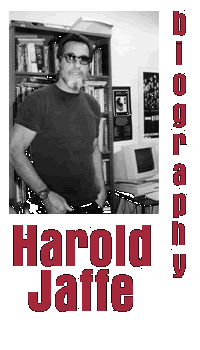 Harold Jaffe's Biographical Information
Harold Jaffe is the author of 24 books: 17 fiction (or docufiction) collections, five novels and two volumes of essays, including:
Death Cafe (Anti-Oedipus Press, 2015)
Othello Blues (Revised) (JEF Books, 2014)
Induced Coma (Anti-Oedipus Press, 2014)
Revolutionary Brain (Guide Dog Books, 2013)
OD (JEF Books, January 2012)
Paris 60 (JEF Books, 2012)
Anti-Twitter: 150 50-Word Stories (Raw Dog Screaming Press, 2010)
Jesus Coyote (Raw Dog Screaming Press, August 2008)
Beyond the Techno-Cave (Starcherone Books, 2006)
Terror-Dot-Gov (Raw Dog Screaming Press, 2005)
15 Serial Killers (Raw Dog Screaming Press, 2003)
False Positive (FC2 Books, 2002)
Sex for the Millennium (Black Ice Books, 1999)
Othello Blues (FictionNet, 1996)
Straight Razor (Black Ice Books, 1995)
Eros Anti-Eros (City Lights, 1990)
Madonna and Other Spectacles (PAJ/FSG, 1988)
Beasts (Curbstone, 1986)
Dos Indios (Thunder's Mouth Press, 1983)
Mourning Crazy Horse (Fiction Collective, 1982)
Mole's Pity (Fiction Collective, 1979)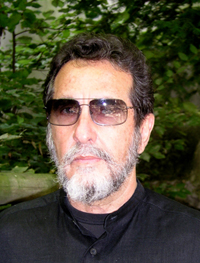 Jaffe's fiction has appeared in such journals as Mississippi Review; City Lights Review; Paris Review; New Directions in Prose and Poetry; Chicago Review; Chelsea; Fiction; Central Park; Witness; Black Ice; Minnesota Review; Boundary 2; ACM; Black Warrior Review; Cream City Review; Two Girls'Review; and New Novel Review. His fictions have also been anthologized in Pushcart Prize; Best American Stories; Best of American Humor; Storming the Reality Studio; American Made; Avant Pop: Fiction for a Daydreaming Nation; After Yesterday's Crash: The Avant-Pop Anthology; Bateria and Am Lit (Germany); Borderlands (Mexico); Praz (Italy); Positive (Japan); and elsewhere.
The 2004 issue of The Journal of Experimental Fiction called "The Literary Terrorism of Harold Jaffe" was devoted to his writings.
His novels and stories have been translated into German, Japanese, Spanish, Italian, French, Turkish, Dutch, Czech, and Serbo-Croatian.
Harold Jaffe has won two NEA grants in fiction, two Fulbright fellowships, a New York CAPS grant, a California Arts Council fellowship in fiction, a San Diego fellowship (COMBO) in fiction, and three Pushcart Prizes in fiction.
Jaffe teaches literature at San Diego State University (San Diego, California) and is editor of Fiction International.
To learn more about Harold Jaffe, read his interviews and critical commentary of his fiction, docufiction, and nonfiction.
Harold Jaffe's Critical Commentary
On Beyond the Techno-Cave:
"We see then that Harold Jaffe's latest collection embraces both the practice and theory of engaged writing with great formal range and élan, and a critical rigor and directness that reinforce previous observations of the depth of feeling of Jaffe's own commitment."

On Sex for the Millennium:
"Something's going on here, low-key, cool, and disturbing. These subtle displacements of desire fix to your memory, and, with their humor and pathos, gnaw there a long time."


--Samuel R. Delany

"Diverse, direct, adventurous, erudite. Sex for the Millennium is a bold exploration of extreme intimacy through many genres, voices, and rare windows. A smorgasbord of desire; I enjoyed it thoroughly."


--Eurydice

"If you like your narratives or your sex vanilla, go somewhere else. This is pure terminal atrocity-exhibition rainbow ice."


--Lance Olsen
On Othello Blues:
"Composed almost wholly of stage directions, quick cuts, and dialogue, Jaffe's novel is an imaginative, witty, and politically prescient retelling of Othello."

--Thomas LeClair

"Potent and prophetic."

--San Diego Union-Tribune

"With multi-layered dialogue and descriptions as clipped and terse as stage directions, Jaffe uses his science fictional setting to hold a satirist's funhouse mirror to our own contemporary world, showing us the rich grown richer, the poor poorer, and the powerful even more indifferent to the misery around them. It is a world to which the blues is the all too appropriate response."

--Rain Taxi

"What separates Jaffe's vision in Othello Blues from any number of other dark cyberpunk futures is that it posits some active resistance to the forces of oppression. At the same time the novel is as formally innovative as Jaffe's stunningly-crafted short fictions."

--American Book Review
On Straight Razor:
"Jaffe's best book to date. Which is saying a great deal. Incisive, vibrant, brilliant, even prophetic."

--Washington Post

"Brilliantly, elegantly poised on the schizoid edge of our crumbling culture."

--Library Journal

"Exquisite chaos from the master word processor of our generation."

--San Diego Union-Tribune

"You will be forever changed after reading Straight Razor. It is a hip, bleak, postmodern masterpiece."

--San Francisco Chronicle

"These pieces, exploring gender slippage and fringed dwellers' rage, televised sexuality and the fragmented, isolated, interrogated, com-modified, and media-ized pomobod, charged with a spirit ironic and energetic as the dark angel at the foot of your bed at three in the morning come to take you to the Murder & Mayhem theme park in the sky, succeed terrifically."

--Review of Contemporary Fiction

"Straight Razor, the new long-awaited collection from Harold Jaffe, is a dirty dozen of fictions which take place along 'the treacherous margins of post-industrial society,' in a parallel present or future, which if you squint at your monitor morphs into a vision of our own delirious culture . . . Constrained by the fictions to think for ourselves and to look at the world in its rawest rendering while denied the cathartic purge of a sit-com society, we leave Jaffe's collection pent and perhaps poised for our own revolt."

--Puck

"For the first-time Jaffe reader, Straight Razor is a peach of a place to start: fuzzy and fun on the outside, sweet tart and fleshy in the middle, but watch out--the pit is bitter and a bit poisonous. Go ahead and eat anyway. The poison is a curative dose, anti-anesthesia for the culturally numb."

--New Novel Review

"Laconic, critical, inspiring . . . You jump from one terse text to the next, molested by numerous waves of manic, info-dense, wired, psychotic images of people at the boundary and just how far they go off that edge and beyond the channel, infiltrating the next form of media to be forced on the market toward hyper-chic expenditure."

--American Book Review

"Jaffe's 'guerrilla writing' engages the enemy head-on and prods us into thinking of new ways of resisting, new ways of living."

--Nobodaddies

"In Straight Razor, Jaffe delivers his most precise and immediate thought grenade ever. The dozen stories occur twenty minutes into our degraded future and are menacing in their closeness to right now, tonight, the next episode of Headline News."

--Bakunin

"Daring and disturbing, Straight Razor skirts about the 'treacherous margins of post-industrial society,' but often seems more concerned with the decline of Western civilization as a whole, tackling issues as broad as race, gender, and identity, as well as tapping into our darkest fears, ranging from AIDS to Armageddon . . . Jaffe's bleak, urban landscapes and characters leading lives of noisy desperation are memorable and hauntingly familiar, a chilling chronicle of life in the nineties."

--Black Warrior Review
On Eros Anti-Eros:
"Eros collides with Anti-Eros in these menacingly comic fictions in which physical love and desire are policed by a high-tech, militarist, media-manipulated society. The calculated silences and disinformation surrounding the AIDS epidemic, the scapegoating of 'deviants,' and the everyday bafflements of sensual love are intersecting themes in Jaffe's razor-sharp parables about Eros under siege."

--Publisher's Weekly

"Supercharged . . . extraordinarily inventive. Eros Anti-Eros liberates its readers."

--Central Park

"Comical, moving and marvelously deft."

--Washington Post

". . . Bursting with stylistic virtuosity."

--Choice

"Jaffe's writing is like no one else writing today."

--American Book Review

"Jaffe's fictions are a wonder of deadpan humor, biting wit and visual beauty. No recent fiction has gripped me with such force and immediacy."

--Marianne Hauser

"Jaffe's fictions combine criticism and moral-political and erotic formulation with imaginative, fabulist writing. Jaffe dedicates his book to 'people living with AIDS,' and the fictions are consistently alert to the travails of Eros in the time of AIDS. This indeed is the book's subject, which the author handles with compassion for those who suffer and anger for the cruel and ignorant who inflict pain--as well as satiric humor for the merely foolish. . . . Jaffe goes his own way and has the courage to take many risks; like Dostoevsky, he understands the artist's obligation to seek originality, and he has become a writer to be reckoned with."

--Minnesota Review

"Wildly parodic images and constructions calculated to jolt us out of our conventional ways of seeing . . . [Jaffe's tales] vibrate with a kind of politicized energy that can't be overlooked."

--San Diego Union-Tribune

"Jaffe in Eros Anti-Eros proves yet again that he is one of a kind."

--Derek Pell
On Madonna and other Spectacles:
"Crackling with rage and black laughter, these 13 short fictions by the author of Beasts wrench themselves out of grimmest fact: genocide, nuclear devastation, black poverty, corporate murder. [This is a] collection that confronts terror in street language and redoubles its impact."

--Publisher's Weekly

". . . Bursting with stylistic virtuosity."

--Choice

"Jaffe's Madonna fictions are like a man trying to clear his throat, his brain, his gut, his language of debris--and managing to sing at the same time."

--John Edgar Wideman

"One of Jaffe's gifts is his extraordinary ability to disassemble contemporary experience and then to reassemble it into something new and inventive. This is a serious book, full of shocks and innovations, which is also fun to read."

--San Diego Union-Tribune

"The lucid rampage of Jaffe's images and judgments is extraordinarily exciting. It reminds me nostalgically of the Real World we suppose ourselves to see out there."

--Robert Kelly

"Nobody writing in America today can do what Jaffe does."

--Larry McCaffery
On Beasts:
"Jaffe's convincing portraits of the dispossessed [are] moving, insightful glimpses of the human spirit under stress."


--The New York Times Book Review

"Something to crow about; a terrific collection of fictions."


--American Book Review

". . . a blessing, a dazzling construction of fiction that resurrects the genre."

--John A. Williams

". . . a collection of authentic, unforgettable prophecies."

--Fanny Howe

". . . a dazzling display of innovative technique. Each tale is a different universe. Deeply moving offerings from a major talent."--Bobbie Ann Mason
On Dos Indios:
"A beautiful and moving story."

--Newsday

"Masterful story-telling."

--New York Times

"Joining the flesh of its people with the flesh of the natural world through music, Dos Indios is finally about the search for the spirit in the body. Jaffe's prose is simple, direct and lovely, and like his gentle musicians, it sings."

--Toby Olson

"Those familiar with Jaffe's experimental works, Mole's Pity and Mourning Crazy Horse, will find in Dos Indios the same compassion for human suffering, the same regard for man's resilient spirit, the same ability to uncover beauty and hope within even the most grotesque and painful aspects of contemporary life. But Dos Indios also represents a new and highly successful direction in Jaffe's fiction: a clarity of vision that allows this story of a crippled Peruvian musician to unfold with the precision of realism and the resonance of myth."

--Larry McCaffery

"What a fine novel . . . serene, life-giving, and full of love. I will keep it all my life."

--Jerry Bumpus

"Deceptively simple, compassionate, haunting."

--American Book Review
On Mourning Crazy Horse:
"Harold Jaffe's vision of our social relations is lucid, powerful and inescapably frightening. Given the great compassion from which it springs and toward which it leads us, it is also, with equal force, sacramental. Since the publication of Mourning Crazy Horse in 1982--one of the best, most inventive books of stories in recent years--I've considered him to be among our most serious and honorable writers."

--James Baker Hall

"Harold Jaffe is one of those few whose fiction deals with what really matters at this juncture in history."

--Hans Koning

"Harold Jaffe is to fiction what Merce Cunningham is to dance, what John Cage is to verbal/musical instrumentation."

--Newsday

"The grotesque and the bizarre, oppression and tragedy are very much present in these tales. Good fare for those interested in new directions in short fiction."

--Publisher's Weekly

"Surrealist, expressionistic . . . lurid . . . violent, often marked by a dark mordant humor . . . an encouraging example of the vigor of contemporary alternative publishing."

--Louisville Courier